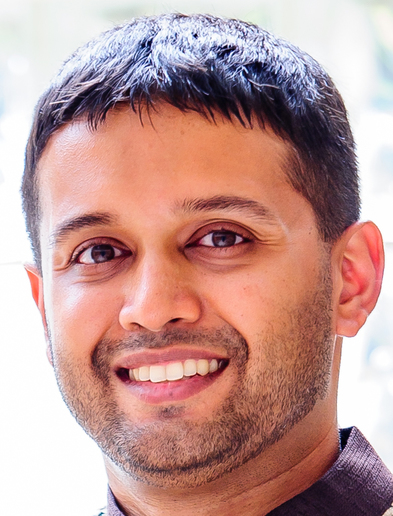 Imran S. Haque, PhD
Email: ish AT ihaque.org
Twitter: ImranSHaque
GitHub: ihaque
LinkedIn: imranshaque

By training, I'm an engineer and computer scientist, focusing on machine learning and fast, scalable code. By interest, I'm a computational biologist, with interests in (epi)genetics, structural biology and biophysics, and drug discovery.
I served as Chief Scientific Officer at Freenome from December 2016 to October 2018, where I supervised Freenome's R&D (ranging from molecular biology and assay development through computational biology and machine learning) to develop blood-based early cancer diagnostics. Prior to Freenome, from 2011 through 2016 I was VP, Scientific Affairs, Director, Research, and Senior Software Engineer at Counsyl (acquired by Myriad Genetics in summer 2018; now Myriad Women's Health), where I managed research in early technology development, clinical development, scientific publications, and wetlab-focused software engineering and computational assay development.
I completed my Ph.D in Computer Science from Stanford University in June 2011, co-advised by Vijay Pande and Daphne Koller. My research focused on methods for large-scale machine learning for drug discovery (thesis: Accelerating Chemical Similarity Search Using GPUs and Metric Embeddings), and I did additional non-thesis work in protein folding, high-performance computing, and computer architecture. During my PhD, I interned at Vertex Pharmaceuticals with Brian Goldman and Pat Walters, developing methods for computational drug discovery. In 2006, I graduated from UC Berkeley with highest honors with my B.S. in Electrical Engineering and Computer Science (Go Bears!). I did undergraduate research with Profs. Kathy Yelick, Bora Nikolic, and John Wawrzynek. I was also a member and officer for several semesters at the Berkeley Mu Chapter of HKN (Eta Kappa Nu). Even further back, I graduated from Bellarmine College Preparatory in San Jose (Go Bells!). I doubt any high school students will care to read this page, but if you do, I strongly encourage you to do (as I did), speech and debate. Without a doubt, the skills I gained there have been extremely useful to me.
WILDS

: A Benchmark of in-the-Wild Distribution Shifts
Koh

PW

, Sagawa S, Marklund H, …, Haque

IS

, Beery S, Leskovec J, Kundaje A, Pierson E, Levine S, Finn C, Liang P. Proc 38th Intl Conf Mach Learning (

ICML

) 139:5637—5664. (2021).
Enhanced

DNA

libraries for methylation analysis (News and Views)
Haque

IS

. Nat Biomed Eng 5:490—492. (2021).
Functional immune mapping with deep-learning enabled phenomics applied to immunomodulatory and

COVID

-19 drug discovery
Cuccarese

MF

, Earnshaw

BA

, Heiser K, …, Haque

IS

, Chong

YT

, Gibson

CC

. bioRxiv 2020.08.02.233064v2. (2020).
Identification of potential treatments for

COVID

-19 through artificial intelligence-enabled phenomic analysis of human cells infected with

SARS

-CoV-2
Heiser K, McLean

PF

, Davis

CT

, …, Haque

IS

, Low

AS

, Gibson

CC

. bioRxiv 2020.04.21.054387v1. (2020).
Genetic ancestry analysis on >93,000 individuals undergoing expanded carrier screening reveals limitations of ethnicity-based medical guidelines
Kaseniit

KE

, Haque

IS

, Goldberg

JD

, Shulman

LP

, Muzzey D. Genet Med 22:1694—1702. (2020).
SCISSORS

: Practical Considerations
Kearnes

SM

, Haque

IS

, Pande

VS

. J Chem Inf Model 54(1):5—15. (2013).
An empirical estimate of carrier frequencies for 400+ causal Mendelian variants: results from an ethnically diverse clinical sample of 23,453 individuals
Lazarin

GA

, Haque

IS

, Nazareth S, Iori K, Patterson

AS

, Jacobson

JL

, Marshall

JR

, Seltzer

WK

, Patrizio P, Evans

EA

, et al.. Genet Med 15(3):178—186. (2013).
Knowledge and attitudes regarding expanded genetic carrier screening among women's healthcare providers
Ready K, Haque

IS

, Srinivasan

BS

, Marshall

JR

. Fertil Steril 407—413. (2011).
Anatomy of high-performance 2D similarity calculations
Haque

IS

, Pande

VS

, Walters

WP

. J Chem Inf Model 51(9):2345—2351. (2011).
Error bounds on the

SCISSORS

approximation method
Haque

IS

, Pande

VS

. J Chem Inf Model 51(9):2248—2253. (2011).
Large-Scale Chemical Informatics on GPUs
Haque

IS

, Pande

VS

. In

GPU

Computing Gems: Emerald Edition (Ed: W.-

M. W.

Hwu). (2011).
MSMBuilder2: Modeling Conformational Dynamics at the Picosecond to Millisecond Scale
Beauchamp

KA

, Bowman

GR

, Lane

TJ

, …, Haque

IS

, Pande

VS

. J Chem Theor Comput 3412—3419. (2011).
Copernicus: A new paradigm for parallel adaptive molecular dynamics
Pronk S, Larsson P, Pouya I, …, Haque

IS

, Beauchamp K, Hess B, Pande

VS

, Kasson

PM

, Lindahl E. In proceedings of

SC11

: 2011 Intl Conf High Perf Comput, Network, Storage and Analysis. 60. (2011).
Mapping Biology With a Unified Representation Space for Genomic and Chemical Perturbations to Enable Accelerated Drug Discovery.
Learning Meaningful Representations of Life (

LMRL

) @ NeurIPS, Dec 2021. Slides. Video.
Zero to potential

COVID

-19 treatments in under 4 weeks with deep-learning driven drug screens.


GPU

Technology Conference (

GTC

), Apr 2021. Slides.
Applying

AI

to Accelerate Assay Development to Pandemic Speed.


SLAS

Transformed, Jun 2020. Slides.
We Are Legion: Statistics and Generalization from Cells to Populations.
(Keynote Presentation) Cancer Research

UK

3rd Int'l Symp. on Oesophageal Cancer, Apr 2019. Slides.Blog Post
(How to fix) the very reasonable ineffectiveness of machine learning in biomarker discovery
Molecular Medicine Tri-Con, Mar 2019.
Thanks, I Hate It: Why your biological machine learning model probably won't work \& what to do about it.
OpenEye

CUP

XIX

, Mar 2019. Slides.Blog Post
Making hay of needles: Connecting clinical and physical parameters in the search for early cancer.


AACR

Special Conf. on Convergence:

AI

, Big Data, and Prediction in Cancer, Oct 2018. Slides.Blog Post
The Reasonable Ineffectiveness of Biological Data.
Early Detection of Cancer, Oct 2018. Slides.
(What to do) when gradient descent digs too deep, and too greedily.
DeepChem User Group Meeting, Jul 2018. Slides.
Embracing heterogeneity: The freenome, information, and early disease detection.
(Keynote Presentation) Cancer Crosslinks, Oct 2017. Slides.
1 in 550: Using 346,790 expanded carrier screens to estimate the risk of Mendelian conditions.
Society for Maternal-Fetal Medicine Annual Meeting, Jan 2017. Slides.
Overcoming artificial selection to achieve the promise of inherited cancer screening.


AGBT

Precision Health Meeting 2016, Aug 2016. Slides.

"

Rare" disease is common: results from 388,994 expanded carrier screens of up to 108 genes
American Society for Reproductive Medicine Annual Meeting, Sep 2015.
Can/Do: the disconnect between what we can do and what we do in perinatal precision medicine.
Stanford ChildX 2015, Apr 2015. Video.
Beyond the dict: Python tools for data wrangling.
PyData 2013, Nov 2013. Slides.
Folding@Everywhere: Computational Biochemistry in the New Era of

HPC

.
(Keynote Presentation) Hyperience: 5th National Dutch Informatics Congress, Nov 2010. Slides.
Hard Data on Soft Errors: A Global-Scale Assessment of

GPGPU

Memory Soft Error Rates.
Resilience Workshop @ CCGrid 2010, May 2010. Slides.
LINGOs and GPUs.
OpenEye

CUP

XI

, Mar 2010. Slides.

"

Rare" disease is common: results from 388,994 expanded carrier screens of up to 108 genes
Festival of Genomics 2015, Jun 2015.
Mapping the Undiscovered Country —- 100,000 Pan-Ethnic Clinical Screens: New tools to detect genetic disease
Association of Clinical Scientists Annual Meeting, May 2013.
Sequencing makes Moore's Law Look Slow: Lessons from Counsyl's first 100,000 Medical Genomes


UC

San Diego Center for Networked Systems, Jan 2013.
Hybrid Vigor: Using Heterogeneous

HPC

to Accelerate Chemical Biology.
Workshop on Bio-Molecular Simulations on Future Computing Architectures, Sep 2010. Slides.
Of Jacquard looms and Jaccard coefficients: multithreading biomolecular simulations in a

GPU

world.


NSF

-

NAIS

Workshop on Intelligent Software, Oct 2009. Slides.
Carrier screening of 346,790 individuals reveals greater risk of severe recessive disease than of Down syndrome or NTDs
Haque

IS

, Lazarin

GA

, Raia M, Bellerose H, Muzzey D, D'Auria K, Kang

HP

, Evans

EA

, Goldberg

JD

. Poster at Am Soc Hum Genet (

ASHG

) 2015. Reviewer's Choice Abstract.
Expanded carrier screening of 322,484 individuals: the case for going beyond

CF


Haque

IS

, Lazarin

GA

, Raia M, Bellerose H, Evans

EA

, Goldberg

JD

. Poster at Eur Soc Hum Genet (

ESHG

) 2015. Best Poster Award candidate.